When you join our team, we will provide you with everything you need including stock, branded snack boxes and even 300 guaranteed customers for you within the first few weeks, within the EXCLUSIVE local territory you have been assigned. This kick starts your business and allows you to begin taking in money straight away.
Your business will be built by placing the snack boxes in workplaces or anywhere that people visit e.g. offices, pubs, school staffrooms, doctor surgeries, factories, hairdressers, golf courses, hotels, garages and anywhere else where people gather. You can choose either package 2 which includes 300 GUARANTEED CUSTOMERS with boxes sited for you by our quality siting team, or package 1 where you find your own customers and site your own boxes.
Package 1
The Franchisee sites the boxes
£
3750
+VAT (£4500 incl. VAT)
350 Make-A-Wish display boxes
Package 2
300 boxes sited for you plus 50 spare display boxes
£
4999
+VAT (£5999 incl. VAT)
Finding & siting 300 customer locations

350 Make-A-Wish display boxes

Full training & free starter package
We strongly recommend package 2 as this ensures that within 2 weeks, your business is running strong with 300 boxes sited for you and all selling products straight away.
There will be nothing more to pay out for other than additional stock and occasional display boxes. After you pay for your first stock order your business becomes self-financing as part of the cash you subsequently collect in is used to purchase more stock. As with any new business you should ensure you can meet your living expenses for the first couple of months while the business is developing. 

Requirements from you
This is a fantastic opportunity for someone to join Snack Aid and earn a good stress-free living with the added benefit of helping a worthwhile cause. We will want you to operate the business on a full time basis, have a friendly pleasant personality and hopefully a desire to be successful. If this sounds like you please get in touch.
All you need to get up and running is some storage – a garage or spare room is ideal (or alternatively you can rent storage space cheaply), a dependable car, computer with a printer and the money to fund the franchise.
As our financial success rests solely upon the orders we receive from our franchisees, we are only successful if they are. So it is important for us provide our franchisees with the best advice and support to maximise their chances of success – this is your guarantee that we are not making empty promises, we succeed with you. We feel confident that once you have looked into all the options you will agree that Snack Aid represents by far the best value for money and the best formula for success.
Package 2 includes 300 GUARANTEED CUSTOMERS with boxes sited for you by our quality siting team
Day-to-day operations of the franchise
Customers choose a product from the box and place their cash in the moneybox. Every two or three weeks, you remove YOUR cash from the box and restock with more products – it's that simple. These takings are then used to purchase more stock and also provide you with your profits! The price you pay for stock includes the charity donation, so all the money you collect is yours. This way of selling is termed 'Cause Related Marketing' and is an increasingly popular way for charities to fundraise. The charity partners with the retail company and receives part of the profits.
As the boxes are branded with Make-A-Wish Foundation UK, customers are happy to host them. This is not the same as cold calling as you are simply leaving a charity snack box at customer's premises, just as if you were placing a vending machine, and giving them a free service. The fact that the charity is for children ensures a welcome mood and makes placing boxes easy.
The benefits of OUR
business model
A better work-life balance
Having a Snack Aid franchise allows you to take control of your working life. Running your own business, you can enjoy flexible working hours as our franchise allows you to adapt your working hours to your personal circumstances. We offer you more freedom and an easier way to earn an income than your typical 9-5 job.
simple, low risk business model
The business is easy to set up and run, with no previous experience needed and full training is provided. Anyone can take on a franchise and make it successful. With low start up costs and a proven business model used by our franchisees all over the country, this is a low risk investment with a proven way to succeed.
The more you put in, the more you get out
Running a Snack Aid franchise is mainly a numbers game. In general, the more boxes you put out, the more your earnings will be. This represents a simple way for you to grow your business. One of our top franchisees has 1400 snack boxes at customer premises and makes a profit of around £70K a year. 
This is not guaranteed, but is achievable. If you follow our business model you will get the satisfaction of watching your business grow. Unlike a lot of 9-5 jobs, being your own boss means you will quickly see the rewards for working hard and putting the hours in
Unique 2 in 1 snack and activity pack franchise package that is unmatched by our competitors
Snack Aid has spent years cultivating relationships with the best suppliers in the confectionary world.  We offer a superior and diverse product range including high quality sweets, luxury flapjacks, cakes, healthy crisps, gluten-free and sugar free options to make sure we are meeting today's trends.
Also available to you is our range of children's activity packs. Stocking these allows our Make A Wish boxes to be situated in places that sweets/snacks cannot get you access to (for example restaurants, cafes, coffee shops, dentists etc.). This is very exciting because, as we are the only franchise in the charity sector that offers children's activity packs, it guarantees that within this sector, our franchisees will have ZERO competition selling these packs from any another franchise!!
Our franchise opportunity stands out from the crowd and offers a very secure investment to its franchisees as well as excellent value for money. We believe our package and top quality products will always keep your business in 'pole position' amongst any competition you may encounter. For your peace of mind you can leave our franchise any time you wish. There is no tie in period or any penalties.
We get you set up quickly so business can be booming from day 1
Our in-house box siters have years of experience in setting up our new franchisees. They will quickly get you set up with 300 sites (package 2) and, at the same time, train you how to site boxes yourself so you can grow your business in the future. This allows you to hit the ground running, with customers in the palm of your hand from the off.
Full and proper siting service.
We are very proud of our siting team and the exceptional work they do. In fact we believe we are the only company to offer a 'full and proper siting service' where snack boxes are PROPERLY placed into customers premises for you to build your business quickly. We do not use external subcontractors as they usually do poor quality work. Our siters are all part of the Snack Aid team working exclusively with us and only place boxes in sites that meet our strict criteria. 
Other companies do not offer a proper siting service like ours, as they have to rely on subcontractors who work on commission and do poor quality work. Rather than admitting this weakness in their franchise package, they usually belittle this valuable and absolutely essential service. It is a fact that without a proper siting service you will struggle to get your business off the ground! The cost of the service is quickly repaid to you because all of your boxes and stock are sited within two weeks quickly bringing in cash for you rather than stored at home earning you nothing! In a nutshell, it's the best money you could ever invest in your franchise!!
Free bespoke route planning software to print your rounds
We have invested in and offer all our franchisees the use of a bespoke easy to use software system that removes the headache of calculating when your customers are due a delivery and prints off your weekly rounds in an efficient route order, all with one click. It will save you lots of time and make your business more profitable. It can even automatically print off charity certificates for your customers showing them how much they have raised for the charity! The overall result is a reduced and automated workload that makes it easier to grow your business.
With our modern solution included in your franchise package, its simple to comfortably deal with as many customers as you want, even 10,000!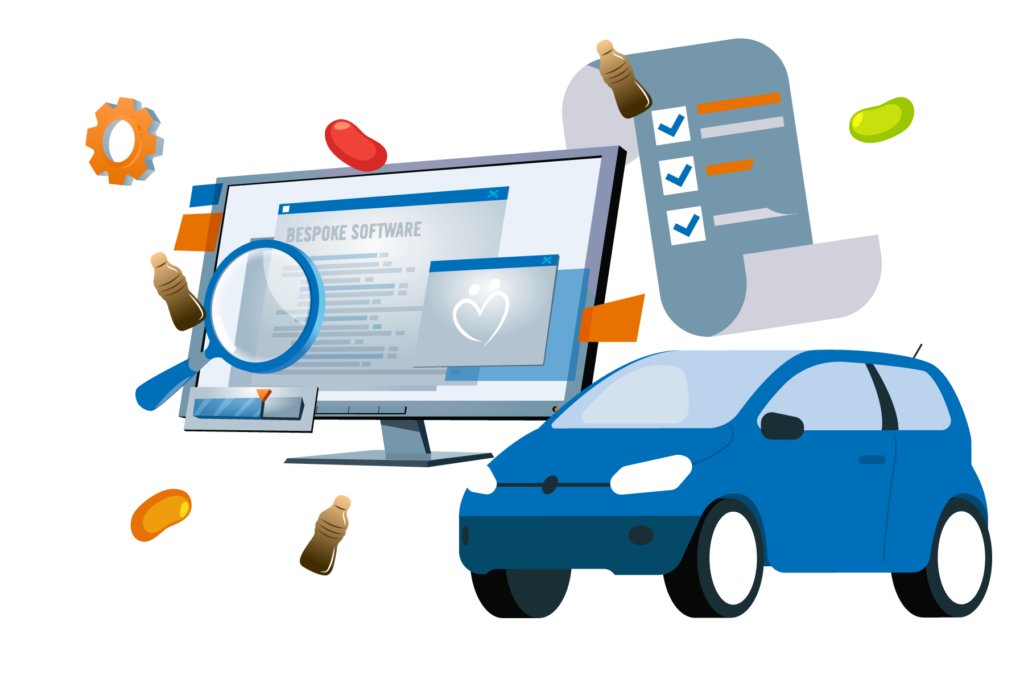 We have a long standing and exclusive relationship with

One of the most touching and recognizable children's charities in the world, the support of the Make-A-Wish brand will open many doors for you. As part of your franchise you will receive a Make-A-Wish branded ID badge and Make-A-Wish branded clothing so you can represent the charity in a professional manner whilst doing your snack box round. This helps ensure customers are very receptive to the work you are doing. In addition, research shows that children's charities are the most supported charities so this helps when siting new boxes.
Help, communication, and advice whenever you need it
Browse our testimonials and you will notice a common theme; all of our franchisees appreciate how responsive we are to their needs. As our financial success rests solely upon the orders we receive from our franchisees, we are only successful if they are, and therefore want to do everything we can do to help you succeed and grow – we are invested in your success.
No fees
We charges ZERO royalties or management fees. If you do some research you will see that some of our competitors will charge £10000, plus regular management fees, for a comparable business opportunity as they will want to make a large profit in the very beginning. With Snack Aid there are no unpleasant surprises, and no fees FOREVER.
What to do if I'm interested?
If you would like to become a franchisee or need to know more, then we would love to hear from you.
Please phone 0845 5199 377 or email info@snackaid.co.uk Our introductory video can be seen here